Some of the best fishing in Tennessee includes Bluegill/Redear, Crappie, Largemouth & Spotted Bass, Smallmouth Bass, Striped Bass and Walleye
TN Fishing License and Regulations
License fees help pay for fishery and hatchery management, habitat development and protection, endangered species programs, fishing and conservation education and more. Non-residents have a choice of an annual fishing, 10 day fishing, or a 3 day trout fishing license.

Annual fishing licenses, generally go on sale February 18th. You can purchase a fishing license online or from county clerks, sporting good stores, marinas and all Tennessee Wildlife Resource Agency regional offices.
Purchasing a fishing license helps protect, preserve and enhance the sport of fishing.
Support your local fisheries and the Tennessee Wildlife Resource Agency. There are a few ways to obtain a Tennessee fishing license. No fishing license needed if you are under 13 years of age.

If you take fish by any method, you must have a valid fishing license. There are some exceptions.
Fishing license for nonresident start at $11 and up. Ages 13 years of age or older.
To purchase a fishing license online you must have a valid driver license. A TWRA customer account is required.
Many of the marinas on Norris Lake also offer fishing licenses for sale that can be purchased at the ship store.
Norris Lake Fishing Report
WATER CONDITIONS - Water release schedules are updated periodically throughout the day. Next-day release schedules are usually available by 6 p.m. of the current day. Full pool is 1,020 ft. For the Norris Lake elevation, inflow rates, and generation times, go to https://www.tva.com/environment/lake-levels/norris.
Observed water levels also are updated periodically throughout the day. Predicted water levels are updated at least once a day, by 1 p.m. Eastern time, and may be updated more frequently when conditions warrant.
Moon phase: Waning Gibbous. The full moon will be May 11. For Norris Lake moon phases, 5 day forecast, phase calendar and statistics, go to https://moonphases.willyweather.com/tn/union-county/norris-lake.html.
SUMMARY - Bass, walleye, and crappie anglers are doing best at night, or just after the break of day. But some walleye are coming in via trolling at 15 to 20-feet during the day, with the depth being greater as the day progresses and the sun is higher in the sky. Bluegill are hitting better. Shellcracker catches remain good near brush in the coves. Crappie are moving back into deeper water brush after daybreak. Black bass catches are slow during the daytime. While the transitional months of spring and fall see rapid changes in fish patterns, the relatively static summer months do not see much change from week to week. With the clear water conditions, two to four-pound-test, low-visibility line, and casts made far from the boat will help your luck during the day.
SPECIES DETAILS

BLUEGILL and REDEAR (SHELLCRACKER): Bluegill: Good. Shellcracker: Good. Shellcracker catches slowed a bit, but some were still being caught just off the bottom in water about 10-feet deep. The lower half of the reservoir is best for shellcracker, but they can be caught in most of the lake. They're hitting wax worms, night crawlers, and small tuffy minnows. Bluegill are being caught in deeper, shaded water, as deep as 20-feet, on crickets tightlined or cast to the shoreline and allowed to drop to depth. Shallow brush is producing smaller bluegill. Popping bugs are always good for bluegill on the shaded, steep, rocky shorelines before 10 a.m.. Once the sun is up, the larger ones drop into deeper water and into available cover and shade.
REGULATION REMINDER FOR BLUEGILL/REDEAR: 30 per day, no length limit/20 per day, no length limit

CRAPPIE: Fair, in brushy coves in the creeks and coves. 10- to 20-feet deep. Near flooded brush in the back of larger creek hollows and in brushy pockets on the upper half of the reservoir. Main channel fishing above Points 30 and 15 is improving in deep brush. Clear water has limited the best catches to nighttime, under lights, and the early morning hours. Plastic grubs in blue ice, green, pearl, or yellow, as well as tuffy minnows. Popeye hair jigs, 1-inch tube jigs, or grubs tipped with minnows along the bottom, or fish trout magnets, popeye flies, and small tube jigs tight to brush early in the morning. Night fishermen are catching them on tuffy minnows beneath lights on main channel, deep brush from Point 29 and above.
Good standard lures: Tuffy minnows, small doll flies, mini tube jigs (red/white, blue/white) and 1/32 ounce hair or feather jigs tipped with minnows, Trout Magnets, or Slider grubs in a variety of colors. Historically good locations to try: Powell River arm channel from Point 15 vicinity to Earl's Hollow. Davis Creek from its headwaters to a half-mile below Powell Valley Marina. Doaks Creek. Big Creek from Indian River Marina to Campbell County Park. Cove Creek above Twin Cove Marina. Mill Creek, Big Ridge Hollow, Lost Creek above its junction with White Creek. Poor Land Creek. Bear Creek. Flint Creek. Sycamore Creek. The Clinch channel above Point 31. Locations between the Dam and Point 9, and the Dam and Point 2 typically produce no crappie.
REGULATION REMINDER FOR CRAPPIE (ALL SPECIES): 10 per day in combination, 10 inch minimum length limit.

LARGEMOUTH & SPOTTED BASS: Good from dusk 'til dawn. Slow during the day. Surface to 20-feet; deeper or tighter to structure during the day. Same pattern, but better action from sunrise to 9 a.m. These fish have been caught within inches of the shoreline where there is wood structure and on small points along rocky shorelines. Some are in the back of coves, in the middle of floating brush, limbs, and other woody structure. Slow retrieves with soft plastic (Flukes, Slider worms, Brush Hogs, or shaky head jigs/slider worms) have taken some nice largemouth at 15- to 20-feet. A variety of watermelon or pumpkin shades have worked well. Slow-rolled spinner action was good on main channel banks at night. Watermelon and pumpkin colored Zoom worms and 4-inch slider or whacky worms are working pretty good.
REGULATION REMINDER LARGEMOUTH/SPOTTED BASS 5 per day in combination, only one smallmouth bass June 1 through Oct. 15, 14 inch minimum length limit/no creel or length limit

SMALLMOUTH BASS: Moderate. Some of these fish are still hitting shallow, at dusk and during the night. Good smallmouth catches have come from 5- to 20-feet along steeper, broken rock shorelines, on long sloping points, or near the bottom on rocky points at up to 20- feet deep. Early morning catches have come from top water plugs or small jerk baits thrown to breaking fish, but the surface breaks are widely scattered across the lower end of the reservoir. Pig'n jigs, Brush Hogs, small plastic worms and lizards have all worked well at dusk. Spinners, slow-rolled down moderately sloped banks, have taken good smallmouth at dusk and after dark, down to 20-feet. Small Tennessee rigs, soft swim baits, small plastic Slider worms, plastic lizards, Brush Hogs, or rubber skirted jigs are working. For soft plastic baits and spinner skirts, any shade of watermelon/pumpkin continues to produce fish. Many smallmouth are being caught by walleye anglers on shad or alewife, at night under the lights. A slow, steady retrieve worked well on the sunny days, with the lure worked along the bottom. Very light, low-vis line (2 to 4 pound) has helped produce the majority of smallmouth. Medium to deep running crank baits in blood red and crawfish patterns, close to the rocky, windy shorelines, but crank baits are not producing as well as small jigs.
REGULATION REMINDER SMALLMOUTH: June 1–Oct. 15: 1 per day, 20 inch minimum length limit, Oct. 16–May 31: 5 per day, 18 inch minimum length limit

Striped Bass: Fair in early morning. Surface on drift lines, or 15 to 20-feet in mid-channel. Cove Creek action remains good on the right mornings and at night. Lost Creek and the channel from Point 19 to Stardust produced some fish, as did Crooked Creek. The Powell side has had catches from Point 10 to Point 12, and from Point 15 to Point 16. Trolled umbrella rigs, shiners, alewife, or shad are taking most of these fish. Shad and large shiners are working when driftline fished or on planer boards, 5 to 20- feet deep. Umbrella rigs with trailers in pearl or chartreuse, or live bait (gizzard shad, shiners, or alewife) tightlined, or trolled with downriggers, to the depth of the forage fish schools in mid-channel especially across the points and humps. Regardless of the location on the reservoir, if there are flocks of feeding gulls, striped bass are likely in the area, feeding on the same forage.
REGULATION REMINDER STRIPED BASS: April 1–Oct. 31: 2 per day, 15 inch minimum length limit, Nov. 1–March 31: 1 per day, 36 inch minimum length limit
There is a new, statewide hook regulation in effect. Read it here: http://www.eregulations.com/tennessee/fishing/statewide-limits-regulations/

WALLEYE: Moderate. Surface to 15-20 feet, near the shoreline where there is broken rock or red clay. Best at night after 10:30 p.m., but trolling plugs has produced some in the daytime. Lower end nighttime catches saw the fish move from the shoreline brush to the bottom at 15 to 20-feet. Night catches have come on topwater plugs, Flukes, Shad Raps, and snagged alewife casted toward the shoreline when fishing under lights. Cast Long Billed Rebels, Rapalas, Thundersticks, Model-A's, or similar lures, or shad/alewife to the rock and red clay shorelines, and where brush may be flooded. Daytime trolling is picking up fish at 20 to 25 feet. phs #1,421
REGULATION REMINDER WALLEYE: 5 per day in combination, 15 inch minimum length limit (upstream to Grissom Island on the Clinch River)
Also visit: TWRA - Tennessee Wildlife Resources Agency | Tennessee Fishing Regulations | TWRA Boating & Fishing Access Sites Map
Fishing Guides & Charters
Make the most of your Tennessee vacation and book a fishing charter service on Norris Lake. Find the best locations on the lake to catch big Striper.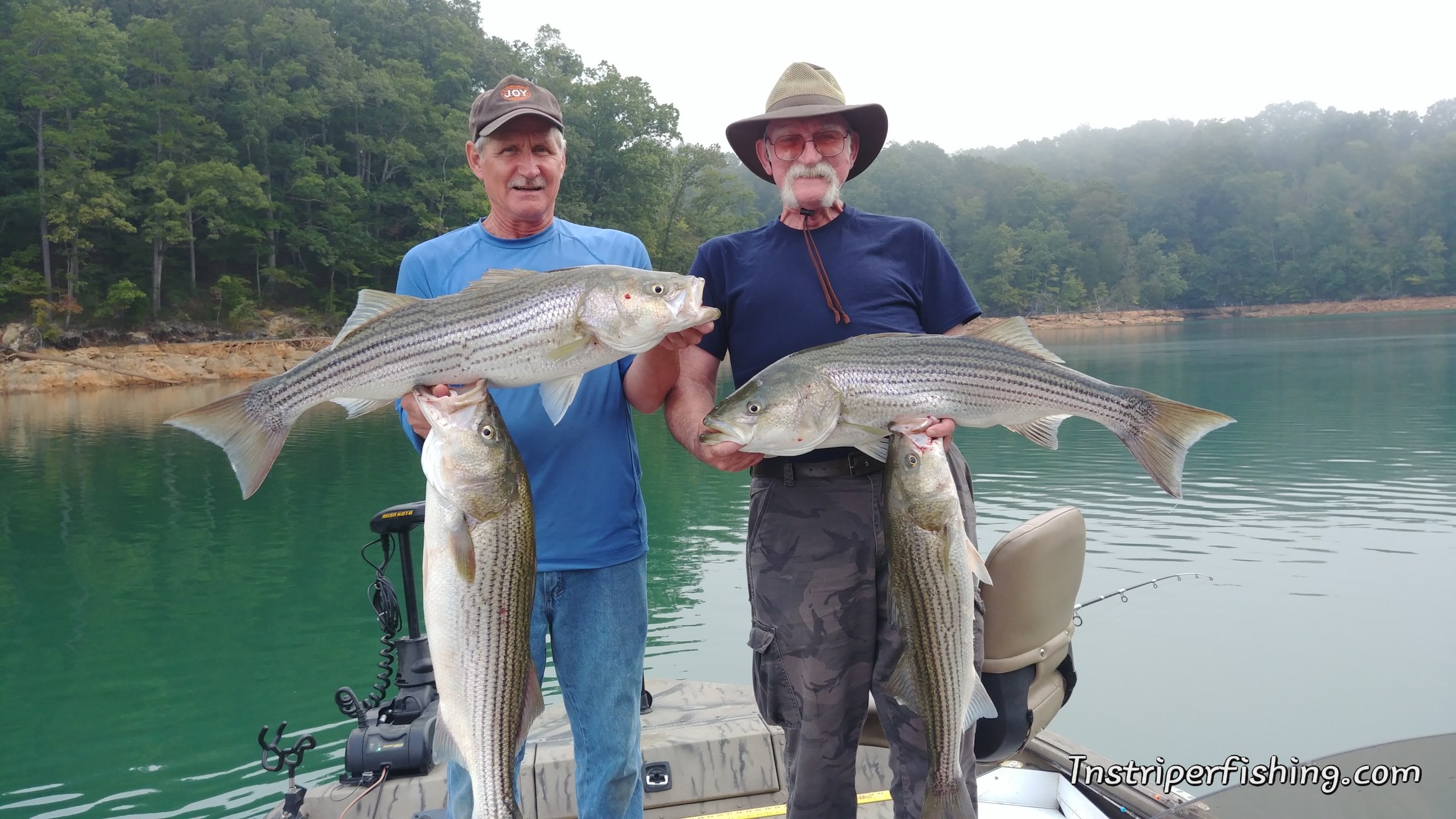 Striper Fishing Trips with Jay Girardot. Nothing is guaranteed in life but if you don't catch fish on your trip you don't pay - minus the deposit. No other guide does that!
Jay's Striper Guide Service
Norris Lake & Clinch River / (865) 745-9060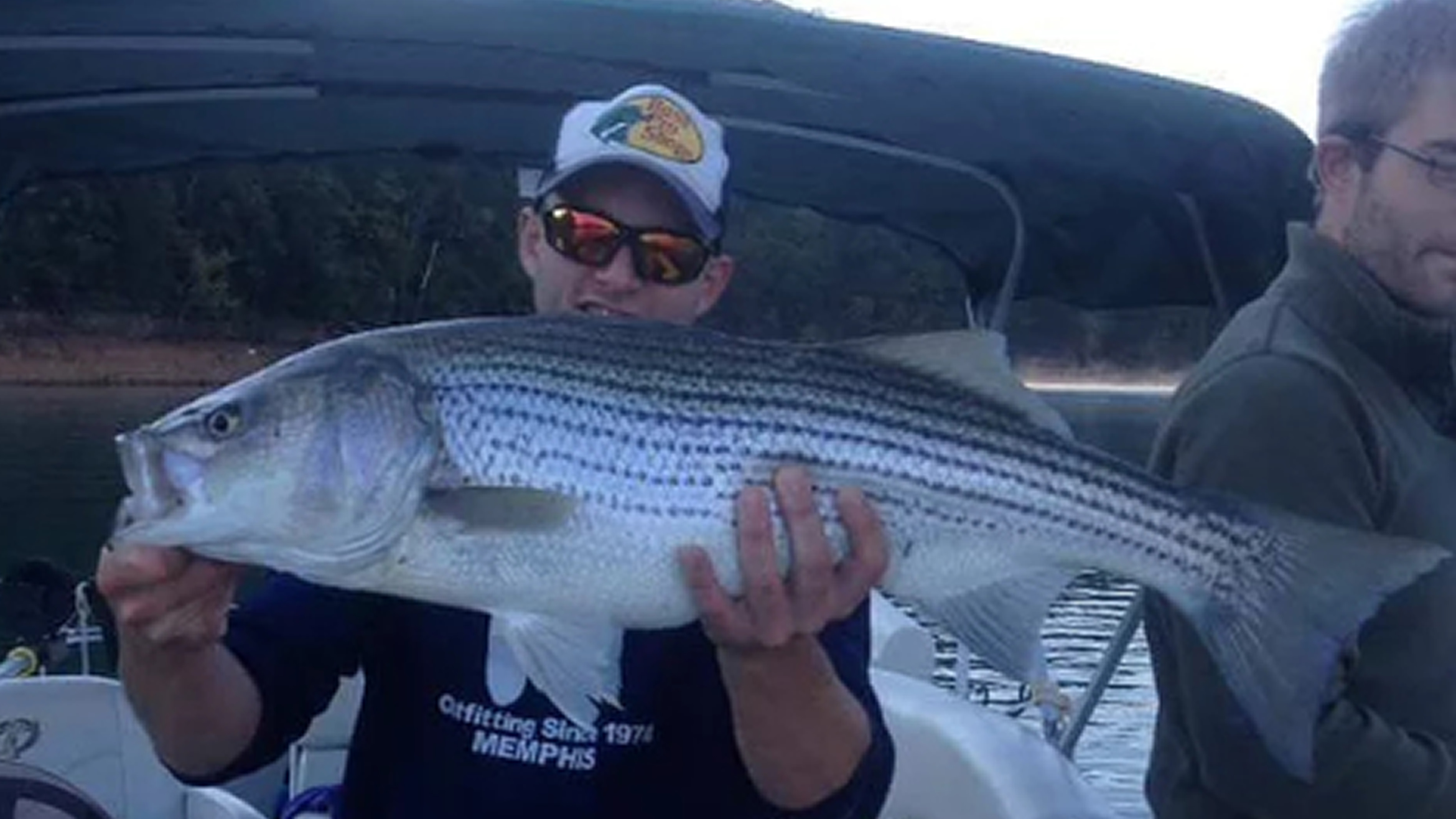 We are a fishing guide service based out of Rocky Top, TN in Anderson county. Rocky Top Reels specializes in striped bass with a surplus of oversized smallmouth.
Rocky Top Reels
Norris Lake / (865) 804-4257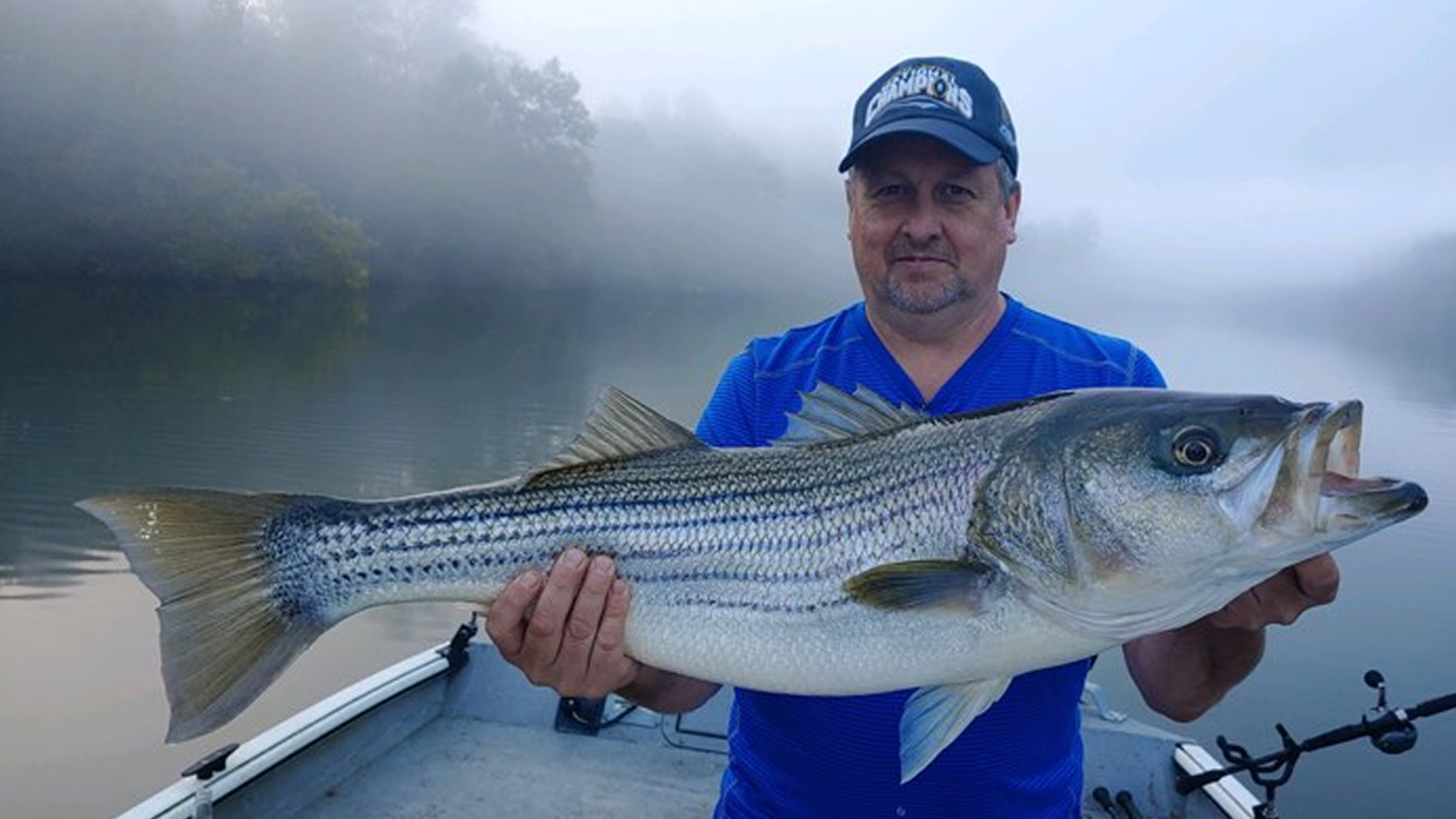 Striper Fishing Trips with Captain Scott Manning and Captain Brycen Roberts. Tennessee River Monsters embraces your passion for Trophy fish.
Tennessee River Monsters
Norris Lake / (865) 680-7672